TYPE IV
TYPOGRAPHED
Vermilion overprint on severed Message and Severed Reply cards
Issued circa. October, 1951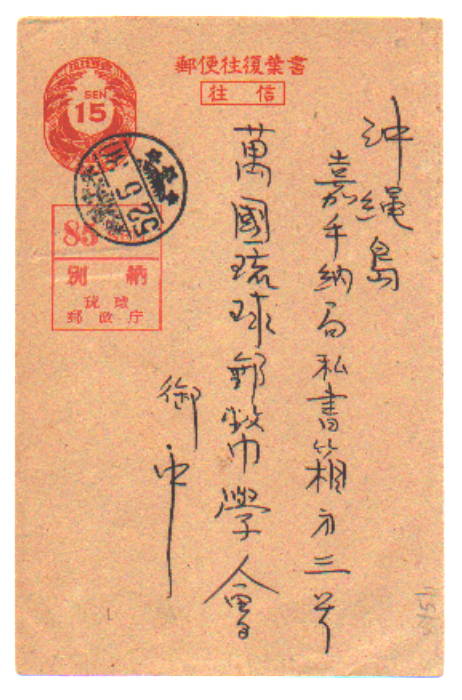 Rectangle, (23 - 23.5 x 26.5 - 27 mm) shaded-line numerals with curved horizional stroke on "5" terminating in a point and SEN in small capital letters. CHO in simplified form.
Printed E70,000 and issued E70,000
V10R-B (UY5h)
Severed Message Card
Tan paper
Base 2
Canceled 5/30/52
g
(23-L)

Issued E40,000 (V10R-B & C combined)
Although still bearing the imprint of the Ryukyu Communications Administration, this card was the first new postal stationery item specifically issued by authority of the Ryukyu Provisional Central Government.
On August 13, 1951 the Ryukyu Communications Administration was disestablished. In its place, issuing authority was transferred to the Ryukyu Provisional Central Government. Thus this is the first stationery item authorized by native officials.
925
Counter Started 08/30/10